With the quality assessment, the RVDE offers interested pedigree cat breeders the opportunity to have their breeding cats assessed according to breeding criteria.
In the quality assessment, cats, which must be at least 18 months old, are assessed by several pedigree cat judges. The animal must be 18 months old to be fully grown, have had a coat change to show coat quality and color and have had the correct eye color. There are only two ratings for the seal of approval. Either the animal is rated "excellent" or it fails.
It is not so much the current show condition that is important for the RVDE quality assessment, but rather the closest possible adherence to the corresponding breed standard. At least as important for achieving a "quite excellent" is a correctly maintained pedigree, which is presented in the original at the quality assessment must become. Only pedigree cats with an absolutely flawless genetic pedigree (without experimental) can pass the RVDE quality assessment.
If a pedigree cat achieves a "completely excellent" in the RVDE quality assessment at 3 international exhibitions, this cat is "carrier of the RVDE‑SEAL OF QUALITY". For all offspring of these cats, the note appears in the pedigree: (name of the cat / tomcat) is a bearer of the RVDE seal of approval.
If at least 3 animals from a pedigree cat kennel are "carriers of the RVDE seal of approval", this kennel will receive a certificate that says: With this certificate we would like to congratulate e.g. Mrs. Angelika Mustermann, Sprengerteich 10, 24220 Flintbek on her excellent achievements in cat breeding . From today your cat kennel "..von Flintbek" bears the addition "carrier of the RVDE seal of approval".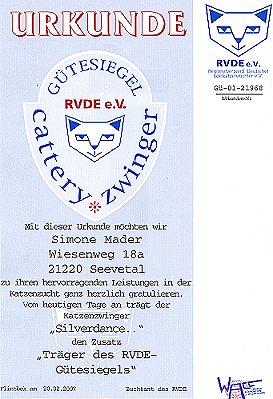 The "RVDE seal of quality" is therefore a 100% orientation for the breeder to determine whether his animal is a perfect breeding animal.
The seal of approval was introduced because unfortunately there are many animals with high titles that acquired them at a too early age. The judges, for example, blamed the bad eye and coat color and other developmental defects on the animal's youth, with the comment: "still developing". Unfortunately there are also surprisingly highly prized animals with noticeable genetic defects, e.g. kinked tails or one-pods. In order to be able to rule out all this, the "RVDE seal of approval" also offers prospective buyers the guarantee that the young animal to be bought has really purebred parents that meet the standard and are genetically clean.