With the quality evaluation the RVDE offers
interested race cat breeders the possibility,
to let judge their breed cats by breed criteria.
During the quality evaluation cats, which must be at least 18 months old, are evaluated by several race cat judges. The animal must be old 18 months, so that it is attained full growth, a skin change behind itself has, so that is to be recognized the quality of the skin and the color and the correct eye color expenditure-colored itself.
There are only two evaluations for the quality seal. Either the animal is evaluated with "completely outstanding" or it falls through.
Importantly for the RVDE quality evaluation is not so much the momentary Show condition, but rather as exact an adherence to as possible the appropriate race standard.
At least just as importantly for reaching one "completely outstanding" is a correctly led pedigree, during the quality evaluation in the original must to be submitted. Only for race cats with an absolutely genetically perfect pedigree (without experimental), the possibility exists to exist during the RVDE quality evaluation.
Reaches a race cat on 3 international exhibitions "completely outstanding" in the RVDE quality evaluation is this cat "Owner of the RVDE QUALITY SEAL".
With all breeds of these cats then the note appears in the pedigree: (Name of the female/the male) is "Owner of the RVDE QUALITY SEAL".
If at least 3 animals "Owner of the RVDE QUALITY SEAL" is from a race cat cattery, then this cattery receives a document on stands: With this document we would like e.g. To your protruding achievements in the cat breed congratulate to Mrs. Angelika Mustermann, Sprengerteich 10, 24220 Flintbek completely cordially. From the today's day your cat cattery "Flintbek" the additive "Owner of the RVDE QUALITY SEAL"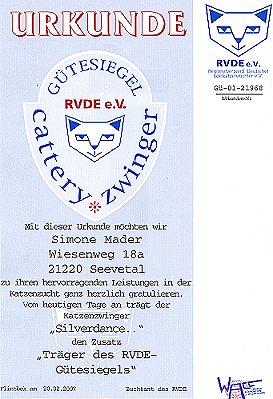 The "RVDE QUALITY SEAL" is thus for the breeder a 100% orientation, in order to determine whether its animal is a perfect breed animal.
The quality seal was introduced, because there are unfortunately many animals with high titles, which acquired these at to early age. The judges e.g. pushed the bad eye and skin color and other developed cause errors back on the youth of the animal, with the remark: "still in the development". Unfortunately there are also surprisingly high awards animals with perceptible genetic errors, e.g. break tail or one testicle. In order to be able to exclude all this, also the "RVDE QUALITY SEAL" guarantees the prospective buyer for really pure racy, to the standard appropriate and genetically cleanly pulled through parents animals of the young animal which can be bought