My name is Simone Mader, I live in Germany, in the south of Hamburg. My love to Persians began on a show in Freiberg. That time I was 10 years old. I saw a blue Persian and I had been overly enthusiastic about his big innocently looking eyes and his gorgeous coat. But some years had to pass by.
1984 my parents and I moved to Hamburg. The thought at a Persian grew. I bought many books and became aquainted with this breed and deepened my knowledges. In November 1986 my 1st persian cat moved in our house and became a member of our family, his name was Moritz v. Bodenteich. He was a silver-tabby with green eyes. He was a dear boy, and he neither liked exhibitions or driving with the car. In 1991 we moved in the municipality Seevetal-Maschen, 25 km from the city of Hamburg.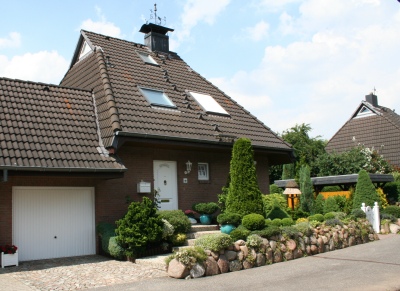 At the age of 15 years and 10 months Moritz had deceased. The pain was very big! Some time passed by and a cream male persian got part of our lives, his name is
By Sullivans Moses of Silverdance
. We noticed quickly, our Moses was bored, he needed a play-companion and so a dream came true. Finally a blue persian male and in addition also a smoke persian,
My Fantasy´s Blue Ice Sensation of Silverdance
, we call him BlueIce, was going to share his live with us. Our love to the persian cats became major, so my mother Inge and I adopted another black-tortie-smoke persian female,
Estagel Candygirl of Silverdance
, we call her Candy. With the mating of BlueIce and Candy we received our first smoke litter. For the further breed we kept
Silverdance Alice
, a very promising black smoke girl and from her our male
Silverdance Charmer In The Night
(black) and our black-smoke male
Silverdance Cloud Dreamer
. Dreamer was very successful by CFA, he is also our first
CFA GRAND
.
As next foundation female came to us
Pele Mele's Silver Sunshine On Ice of Silverdance
, is calling Sunny, she should enrich our shaded-cameo breeding, but after a genetic blood test of LABOKLIN, we found out, that the breeder of the cattery "Pele Mele" me aware have sold a red-smoke female.
The certificate of LABOKLIN you can viewed here.
Unfortunately, we had to take Sunny from the breeding, she had a lot of uterine inflammation. Only good, we kept for our breeding program her only one Kitten
Silverdance Sweet Ice Princess
- tortie-smoke.


Kikiland Folie B of Silverdance
a blue-cream female came to us in 2010, a very promissing female, she she fulfilled our dream in blue-cream-smoke with
Silverdance Jewel
. Jewel was
3rd Best smoke/shaded Persian
for the show season
2013-2014 / CFA Region Europe
.
Out the breed with Silverdance Jewel and Silverdance Charmer In The Night our youngster male in black-smoke
Silverdance Rendezvous For Night
will enrich our breeding. Already as a kitten he was at numerous TICA shows throughout Europe successfully.
So he was in the
Show season 2017-2018:

3rd Best Black-Smoke Persian TICA INTERNATIONAL
Best Persian Kitten TICA Region North Europe
Best Black-Smoke Persian TICA Region North Europe
4th Best Persian TICA Region North Europe
With only 1 year and 10 months our black-smoek persian male
Silverdance Rendezvous For Night
is
TICA Supreme Grandchampion
. On th eend of the Showseason 2018/2019 he received also the
Regionalwinner
. What for a success for our smoke breeding program.
Show Season 2018-2019:

REGIONALWINNER TICA Region North Europe
19th Best Longhair Cat TICA Region North Europe
Best Persian TICA Region North Europe
Best Black-Smoke Persian TICA Region North Europe
19th Best Persian TICA INTERNATIONAL
Our task stands for breeding beautiful lovely persians in smoke and solid. Our slogan always stands for:
Quality before Quantity
. To the breed do not only belong the mating, birth and upbringing, every breeder should get some knowledges in genetics, too. On my website I show you information about the
breedstandard of persians
with coloured pictures, text and the genetic code.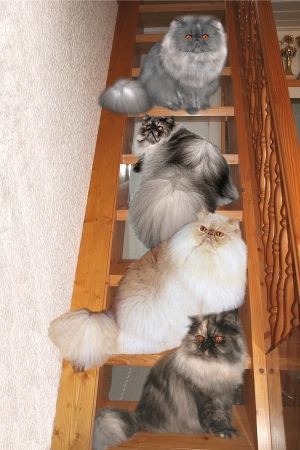 the begin for Silverdance Persians in 2002-2005
All our cats can go free in the whole house, also our males. Our cats like the summertime most, they love it to have breakfast outside on our terrace.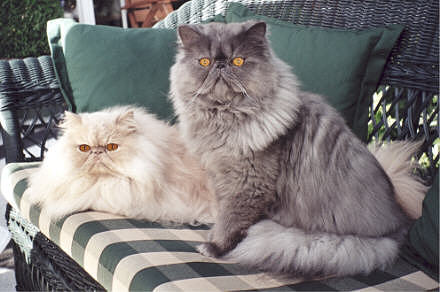 it's summer time
Our cats are our children and they are very spoiled. Who can disagree these big asking eyes. Our cats tested negative for are FIV / FELV and PKD1 & pd-PRA DNA.
We give them a regular (periodical) deworming and inoculation to prevent Panleukopenia, Feline rhinotracheitis Herpesvirus, Feline Calicivirosis (RCP),
Rabies and Feline Leukemia (FeLV).
I am member of CFA and TICA, and Felidae e.V. and all my cats are registered by CFA and sometimes by TICA. Until 31.08.2008 I had been also a member of the german cat club RVDE e.V. and until to End of 2019 a conveying member of Catfriends of Germany. Our cattery was distinguished on 10 February 2007 with the title of the
RVDE Quality Seal
.
We go in the show season constantly to shows, across Europe and show our persians by the CFA, TICA and of conventional shows.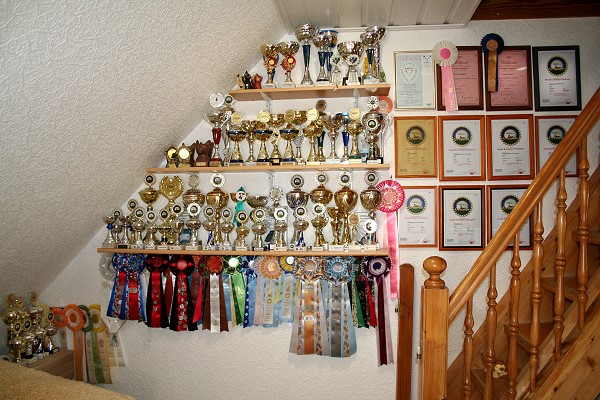 a small selection of cups for Best in Show and Best of Breed,
and CFA & TICA Final Winner ribbon for our cats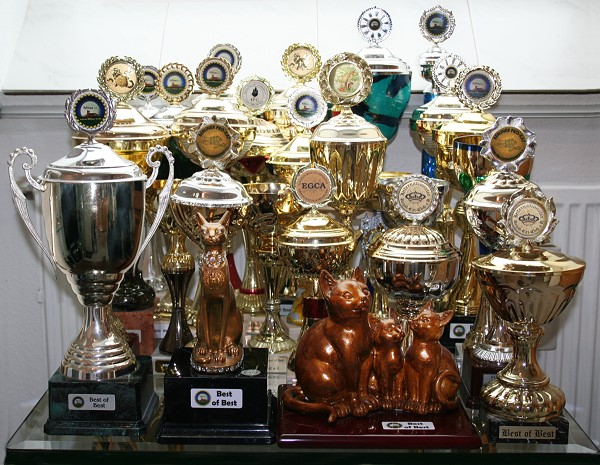 a small selection of Best of Best for our cats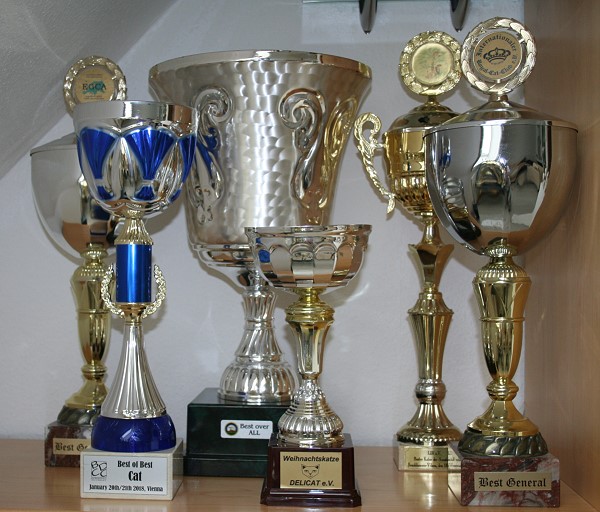 a small selection of Best Over All for our cats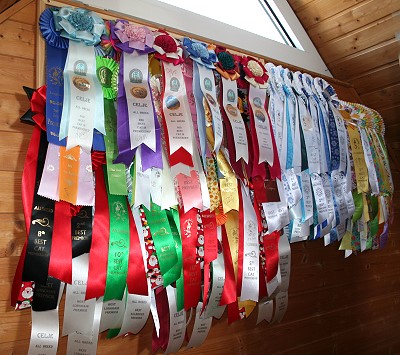 CFA Final Winner ribbon for CFA GP Silverdance Cloud Dreamer
Convince yourselves. We wish you much fun when you are looking at our homepage.